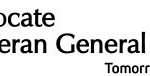 Advocate Lutheran General Hospital
RECOGNIZED AS ONE OF THE BEST PLACES TO WORK IN ILLINOIS
Advocate Lutheran General Hospital in Park Ridge, Illinois is currently recruiting for an adult neuropsychologist for a full-time position in our growing department.
The successful  candidate will conduct comprehensive neuropsychological services for adult inpatients and outpatients with primarily medical, surgical and neurological problems. This includes but is not limited to comprehensive neuropsychological assessment and interpretation, treatment, patient/family counseling and behavior programs.. Applicants should have prior experience working in a hospital setting with interdisciplinary teams.
Requirements include psychologist licensure, a Ph.D. or Psy.D.  from an APA/CPA-accredited program in clinical psychology, successful completion of an APA/CPA-accredited internship, and completion of a two year clinical neuropsychology postdoctoral fellowship.  Illinois licensure must be obtained prior to beginning employment.