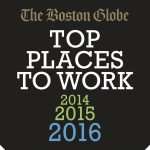 Website Commonwealth Psychology Associates®, LLC
The Standard in Behavioral Health®
Pediatric Neuropsychologist
About CPA
Did you know that Commonwealth Psychology Associates is a three-time recipient of the Boston Globe's 'Top Places to Work' award? We hope you'll check us out and find out why our employees have rated us among the best workplaces in Massachusetts for three straight years.
CPA is a dynamic, mission-driven behavioral health center dedicated to providing exceptional service and state of the art psychological healthcare to help our clients live happier and healthier lives. We are committed to excellence in all we do – for our clients, staff and community.
Position Overview
CPA is seeking a Pediatric Neuropsychologist to join our expanding Child & Adolescent Service and team of 6 full-time neuropsychologists (4 are board-certified) and 40+/- other behavioral health specialists. Board certification will be required within 2 years of start date.
This position is 100% clinical and is ideal for a pediatric or lifespan neuropsychologist who enjoys working with children and adolescents presenting with learning disabilities, attention problems, developmental disabilities, medical and neurological conditions, behavior problems, autism spectrum disorders, and psychiatric disorders.
In addition to conducting comprehensive neuropsychological evaluations, all CPA neuropsychologists also participate in and contribute to the weekly neuropsychology case conference meeting and the weekly all-discipline team consultation meeting. Supervision of neuropsychology technicians as needed is also a part of this position.
The position requires a team orientation, commitment to customer service, excellent clinical skills, strong report writing, and an interest in contributing to our fun and professional workplace culture. Must be licensed or license eligible in Massachusetts.
We Offer
• Work-life balance
• Excellent compensation
• 401k with company match & profit sharing
• Health, Dental, Flex Spending & Dependent Care Accounts
• Student loan repayment program, Free lunch Thursdays & much more
To Apply Please forward a cover letter and CV to Andrea Piatt, Ph.D., ABPP. Confidentiality assured.