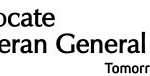 Advocate Lutheran General Hospital
Advocate Lutheran General Hospital in Park Ridge, Illinois is seeking a Psychometrist for a full-time position in our growing department.
The successful candidate will provide inpatient and outpatient testing services to adolescents  and adults with neurological concerns.  Knowledge of standardized administration and scoring of a wide range of psychological and neuropsychological tests needed. Also will document behavioral observations and provide brief summary of results to the Neuropsychologist.  Bachelor's degree in psychology or related field.  Experience and exposure to psychological assessment with diverse patient populations and diagnostic groups. Previous hospital experience preferred.
Please email all inquiries or applications to:
Judi Doroff, Manager, Advocate Lutheran General Hospital, 1775 Dempster Street, Park Ridge, Il. 60068, Neuropsychology, Office 847-723-7410
Email: Judi.Doroff@Advocatehealth.com