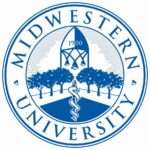 Website Midwestern University
Midwestern University, College of Health Sciences, invites applications for the position of Assistant/Associate Professor within its APA accredited Clinical Psychology Program located at the Glendale, AZ Campus. Primary responsibilities will include teaching, mentoring, and overseeing the neuropsychology track within the program.
The Clinical Psychology Program adheres to a practitioner-scholar model of training and awards a Doctor of Psychology degree (PsyD) to students who complete the program. The Program operates on a quarter system and students typically complete their training, including a pre-doctoral Internship, within four years.
Midwestern University offers degree opportunities in several graduate-level health care related professions and emphasizes collaborative model to patient care. For this reason, clinical students are afforded many opportunities to interact with other healthcare professions during their training and develop skills in integrated health and interdisciplinary collaboration.
Candidates interested in applying for the open position should earned a doctoral degree (Psy.D. or Ph.D.) from an APA accredited clinical (preferred) or counseling psychology program. Applicants must possess an active license to practice psychology in Arizona or within another jurisdiction within in the United States. Candidates must also be eligible for licensure to be licensed in Arizona and obtain licensure in Arizona within 12 months of hire. The successful candidate should have a definitive plan to receive board certification in neuropsychology within two years of hire or will be board certified . The successful candidate will have demonstrated relevant experience in graduate level teaching, clinical practice, curricular design, and research.
The Assistant/Associate Professor is expected to teach courses in neuropsychology and to oversee the success of students within the neuropsychology track, including student research and student advisement and mentoring. The neuropsychology faculty candidate will work with the director of clinical training to assist in assigning students on the neuropsychology track to appropriate neuropsychology practicum sites. The faculty member will also interact with site supervisors as necessary to ensure the quality and suitability of the training provide at these sites.  The successful candidate will also provide supervision coverage periodically to our practicum students and post-doctoral fellow assigned to our onsite Psychology Clinic.
The Clinical Psychology Program values diversity in its faculty, student body, and teaching philosophy. We strongly encourage applicants who represent diversity to consider applying for the position. We value applicants who might contribute to our programs ongoing efforts to improve awareness and inclusiveness within our community.  Salary and benefits are competitive. Review of applications will begin immediately and continue until the position is filled. Rank may be negotiable and dependent upon applicant's qualifications.
Interested applicants should submit their application through Midwestern University's job board and attach a CV.
If you have questions, please contact:
Dr. Adam Fried
Program Director
Clinical Psychology Program
College of Health Sciences – Glendale
afried@midwestern.edu
About the University:
Midwestern University is an independent institution of higher education committed to the education of health care professionals and accredited by The Higher Learning Commission, a Commission of the North Central Association of Colleges and Schools. The Glendale campus is located on 155-acres in Glendale, Arizona, a suburb within the Phoenix-metro area, and is home to the Arizona College of Osteopathic Medicine, the College of Pharmacy-Glendale, the College of Dental Medicine-Arizona, Arizona College of Optometry, College of Podiatric Medicine, College of Veterinary Medicine, College of Graduate Studies, and the College of Health Sciences. The College of Health Sciences includes programs in Cardiovascular Science, Clinical Psychology, Nurse Anesthesia, Nursing Practice, Occupational Therapy, Physical Therapy, Physician Assistant Studies, and Speech-Language Pathology.
Midwestern University is an Equal Opportunity/Affirmative Action employer that does not discriminate against an employee or applicant based upon race; color; religion; creed; national origin or ancestry; ethnicity; sex (including pregnancy); gender (including gender expressions, gender identity; and sexual orientation); marital status; age; disability; citizenship; past, current, or prospective service in the uniformed services; genetic information; or any other protected class, in accord with all federal, state and local laws, including 41 C.F.R. 60-1.4(a), 250.5(a), 300.5(a) and 741.5(a). Midwestern University complies with the Smoke-Free Arizona Act (A.R.S. 36-601.01) and the Smoke Free Illinois Act (410 ILCS 82/).  Midwestern University complies with the Illinois Equal Pay Act of 2003 and Arizona Equal Pay Acts.