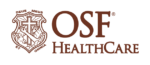 Website OSFHealthCare OSF HealthCare
Serving with the greatest care and love.
Job Specifics
•  The Pediatric Neuropsychology Service at OSF Children's Hospital of Illinois is recruiting for a full-time Pediatric Neuropsychologist with a primary focus on assessing and treating Pediatric Hematology and Oncology patients served through the St. Jude Clinic – Midwest Affiliate on the OSF medical center campus. This position will be supported by a full-time Psychometrist.
•  The Pediatric Neuropsychology Service at OSF Children's Hospital of Illinois currently employs one full-time doctoral-level neuropsychologist supported by a full-time psychometrist.
•  At OSF Children's Hospital of Illinois, the Pediatric Neuropsychologist performs psychological, neuropsychological, and neurodevelopmental assessments for outpatients aged birth to 18 years old. In addition to the Pediatric Hematology/Oncology patient population, the successful candidate will serve our patient populations from a variety of other specialty clinics (e.g., Congenital Heart Clinic, Spina Bifida Clinic, Pediatric epilepsy program, etc.), as well as general medical populations across all outpatient hospital services.
•  OSF HealthCare offers a competitive salary, relocation assistance, and signing bonus. The comprehensive benefit package includes malpractice insurance, funds for continuing education and association dues, paid time off, insurance (medical, dental, vision, life), and matching 401K retirement plan.
Primary Responsibilities: 
·       Conduct psychological and neuropsychological evaluations with assigned patient populations receiving care within a Level 1 Trauma Center that includes an acute care hospital, adult inpatient rehabilitation, neurological institute and children's hospital.  
·       Direct and manage psychometrists assisting with evaluations.  
·       Interpret psychological and neuropsychological test data, making inferences about patient behavior and personality, and formulating treatment plans that will aid in behavioral and/or cognitive improvement, such as patient-specific compensatory strategies, health behavior change plans, or behavior management plans.  
·       Provide interactive feedback with patients and patient families that considers cultural, educational, and language needs.  
·       Timely completion of evaluation reports that clearly communicate results and recommendations for medical providers, outside agencies, and for patients and their families.  
·       Provide follow-up care, as needed.  
·       Provide consultation and liaison services within Multispecialty clinics and teams, as assigned.  
·       Maintain required continuing education credits, as well as gain additional knowledge and training in specific patient populations and/or medical conditions, as needed.  
·       Maintain professional standards of conduct, as required by state licensing board and by OSF Healthcare.  
·       Build and maintain positive working relationships within the hospital system and outside agencies. 
·       Maintain professional standards of conduct, as required by state licensing board and by OSF Healthcare. 
Required Qualifications:     
·       Qualified candidates will have a Ph.D. or Psy.D. in clinical psychology from an APA/CPA-approved training program 
·       Have completed a two-year fellowship program in Neuropsychology 
·       A valid and current license to practice clinical psychology issued by the Illinois Department of Professional Regulations, or a pending application of licensure if in the probationary period of employment
·       Board Certified or eligible in Neuropsychology.    
 Preferred Qualifications: 
Pediatric neuropsychology position: 
·       Prefer candidates with experience in conducting evaluations with preschool-age through older adolescent populations within a medical setting. 
·       Expertise evaluating and monitoring pediatric hematology/oncology patients is preferred. 
·       Experience with developmental evaluations of infants and toddlers and/or presurgical candidacy evaluations is a plus. 
·         Individuals at the stage of completing postdoctoral fellowships are encouraged to apply
EOE/Minorities/Females/Vet/Disabled Job seekers will be afforded equal opportunity regardless of their race, ethnicity, veteran status or disability status. 
The Hospital
OSF HealthCare Saint Francis Medical Center, with 629 beds, is the fifth-largest medical center in Illinois. A major teaching affiliate of the University Of Illinois College Of Medicine at Peoria, it is the only Level I Trauma Center serving 18 of the surrounding counties. It serves as the resource hospital for emergency medical services for north-central Illinois. The medical center is home to OSF Children's Hospital of Illinois, OSF Illinois Neurological Institute, and the Jump Trading Simulation & Education Center.  It is one of only 58 organizations in the country to have been designated a Magnet hospital four times in a row (a program widely accepted as the gold standard of patient care, recognizing excellence and professionalism in nursing). In 2019, the medical center was the winner of the Magnet Prize presented to only one hospital in the nation.  Learn more at https://www.osfhealthcare.org/saint-francis/.
The Community
•  Peoria, the largest Illinois metropolitan area outside of Chicago and St. Louis, is home to a large collection of medical research, educational and clinical facilities
•  Peoria, IL was recently ranked among the "10 Best Cities for High Salaries and Low Costs of Living" in the nation according to a recent online personal finance report through The Ascent.
•  As the largest city on the Illinois River, Peoria offers picturesque downtown views. The city has more than 9,000 acres of parks including a zoo, botanical garden, and public golf courses. Indeed, the Peoria Park District is the largest in the state. The city offers something for every interest including the fine and performing arts, local sports teams, dining out, and the great outdoors.