Okay, I'm here! What do I do now? Do I log into Zoom?
Welcome! The first thing to do is to prepare to enjoy yourself and try not to feel overwhelmed. Admittedly, there is a vast amount of high-quality content awaiting you, and it all becomes available at once on May 26, 2021. But that's okay: you have more than three months after the launch date to pace yourself and enjoy the process of absorbing the content.
To get started, we would suggest reviewing the session abstracts. Look at the titles, abstracts, and authors, and decide where you would like to begin. Videos range in length from 1-3.5 hours in length. You may watch a video in one sitting, or you may pause it and watch it later. You may customize your viewing schedule to your liking once the videos become available on demand (May 26, 2021).
After watching a video, go ahead and complete the CE quiz while the material is fresh in your mind. The quizzes are "open book" in the sense that you may refer back to the workshop handout or video as needed. Take your time. Once you pass a quiz, you will be directed to a brief workshop evaluation form, and after submitting it, you will receive your CE certificate.
If you do not pass a quiz at 75% or better, don't worry! These things happen sometimes to the best of us. You will receive feedback about your answers and note which ones were incorrect. Refer back to the handout or video, correct your answers, and then re-take the quiz.
After a few videos, why not stop by the poster session? There are 140 of them, but unlike an in-person conference, you have plenty of time to read and consider all of them. You may submit comments or questions to the authors on each poster's page. 
Everything you need is here on our website. When the live sessions begin on Wednesday, June 9, 2021, simply visit the Conference Launch page and look for the link to join the Zoom session (see screenshot).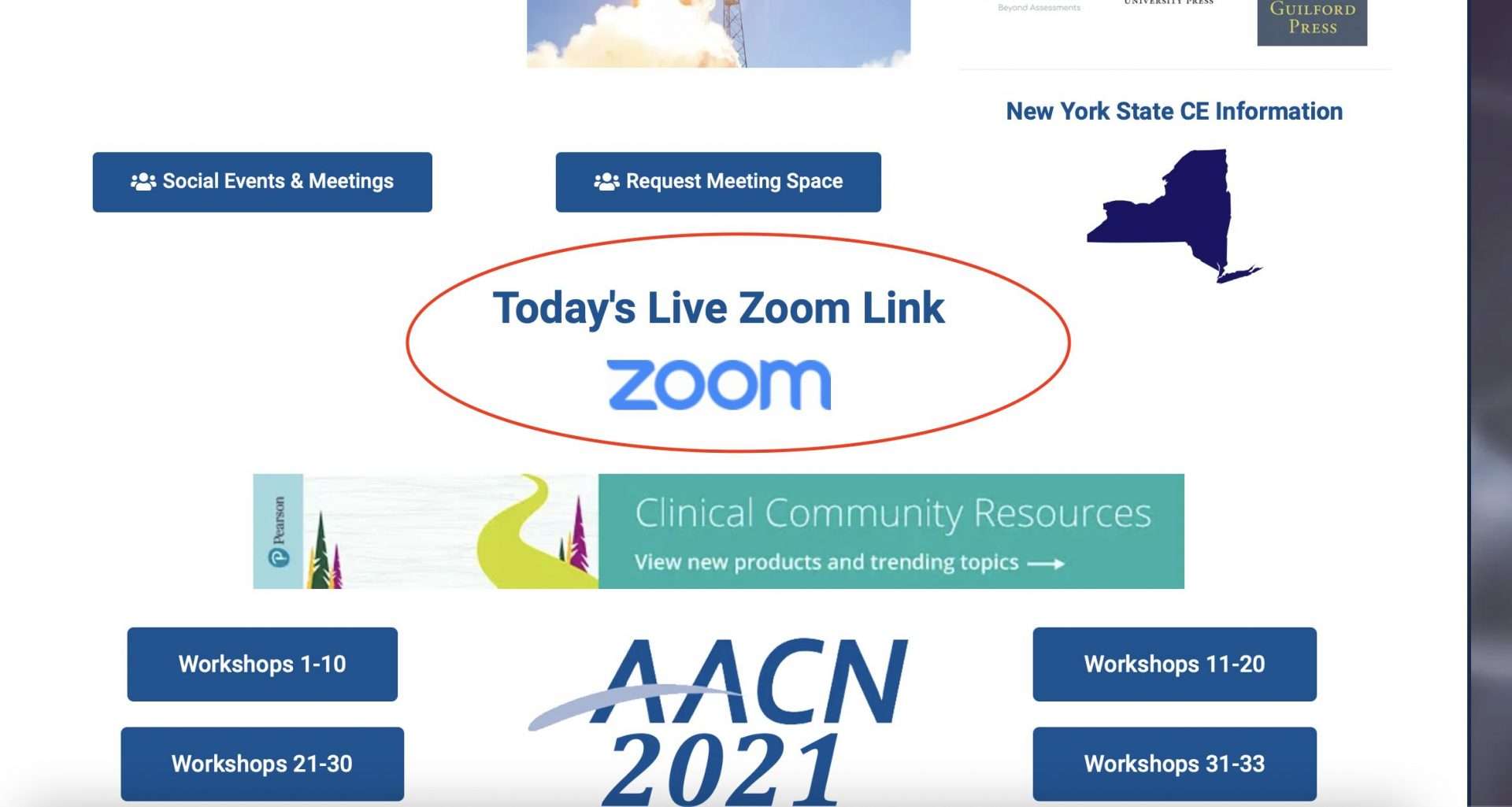 I passed the quiz for a workshop, but I still need a CE certificate.
After passing a quiz, the site will direct you to the post-quiz workshop evaluation form. A few people have told us that they have accidentally closed the browser or performed some other action that interfered with this process. Thus, they have completed the quiz but still need a CE certificate.
If you are in that situation, please visit this page.
How do I control the video, download the handout, and take the quiz?
All of those controls are right on the screen. Please refer to the below image.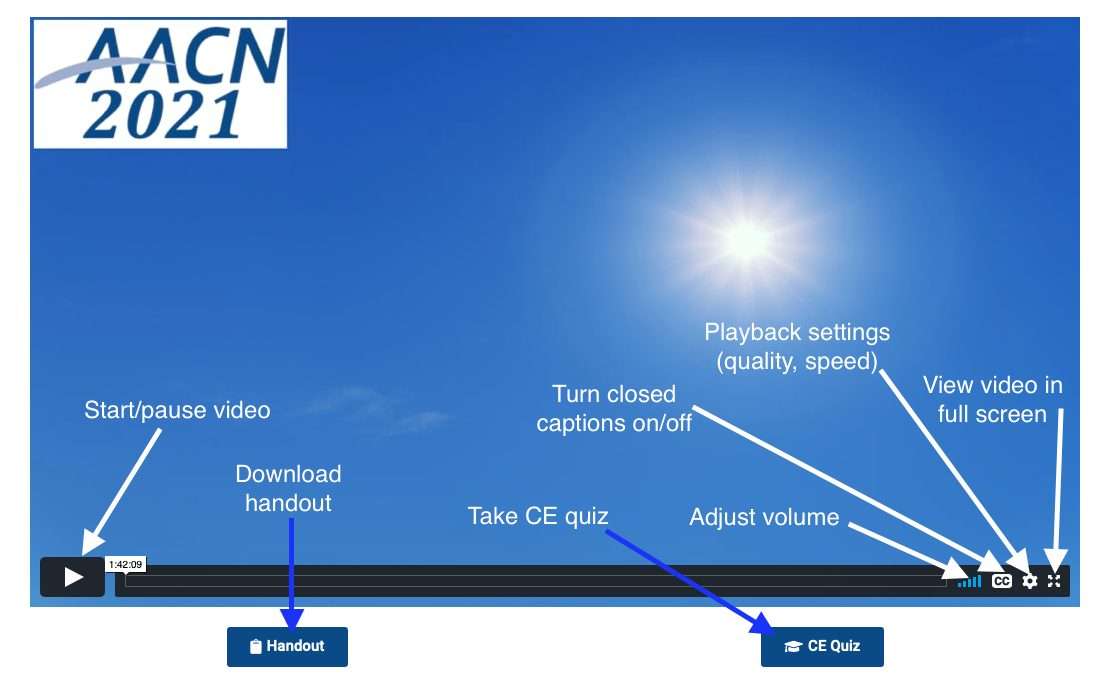 Are you an APA approved CE provider?
Yes! The American Academy of Clinical Neuropsychology is approved by the American Psychological Association to sponsor continuing education for psychologists. The American Academy of Clinical Neuropsychology maintains responsibility for this program and its content.
This year's virtual conference will count as "home study" for CE purposes. Please be sure to check your state/province/territory's requirements regarding continuing education.
Do the CE credits count for those licensed in New York?
Yes! As of May 28, 2021, The American Academy of Clinical Neuropsychology is recognized by the New York State Education Department's State Board for Psychology as an approved provider of continuing education for licensed psychologists #PSY-0094. 
This year's virtual conference will count as "home study" for CE purposes.
Background:
Effective January 1, 2021, the State of New York began requiring each Licensed Psychologist to complete 36 hours of approved continuing education courses for each triennial registration period.
What date will be listed on my CE certificates?
After you view the pre-recorded content, you will complete a CE evaluation form that includes some quiz questions. When you complete it successfully, the certificate will display the date on which you completed the form, not the date on which the video first became available or when you viewed it.
What does the registration fee include?
AACN is pleased to again offer all-in-one pricing for the 2021 Conference. As such, your registration fee provides access to 100% of the conference content, including 33 sessions of pre-recorded and live content for a total of 70 CE credits. Recordings become available on May 26, 2021 and will remain so for three months after the conclusion of the conference (i.e., September 12, 2021).
How do I pick the workshops and events that I want to attend?
The totality of the conference content is available to attendees this year! You do not need to formally select any workshops or sessions as a result. Simply view all of the pre-recorded sessions that interest you once they are available and join as many of the live Q&A sessions as you want. CE credit will be awarded based on completing a post-workshop evaluation form and passing a quiz based on its content.
What is the format for the workshops?
Workshop presentations will largely be pre-recorded but also feature a live question and answer session. The pre-recorded content will be released on May 26, 2021.
This will allow attendees plenty of time to view the pre-recorded material. The live Q&A sessions will then follow on the dates that the conference was originally scheduled to occur: June 9-12, 2021. CE credit will be awarded based on completion of a post-workshop evaluation form and passing a quiz based on its content. No additional CE will be awarded from attending the live Q&A session, though you are encouraged to do so.
How do I access the material?
Attendees will receive emails informing them of the availability of conference material, including videos and workshop handouts. All material will appear here on the AACN website conference pages. For each session, you will see a video and, for sessions that award CE credit, a handout and post-event CE quiz/evaluation form. Everything is conveniently centralized on these pages for easy access. Once registered, all you need to access the material is a computer or mobile device with an Internet connection.
Can I keep a copy of the recordings?
Attendees will have access to the pre-recorded content and live Q&A material during the conference and for up to three months after its conclusion (i.e., September 12, 2021). This interval will provide plenty of time to view and enjoy all of the material. We do not allow any recordings to be saved, although you are welcome and encouraged to keep your copy of the workshop handouts.
When is the AACN Foundation event? I do not see it listed on Wednesday night.
How do I attend the poster session at the virtual AACN conference?
All posters will become available here on May 26, 2021 (the same day that the other content goes live). Each poster includes a comment/question submission form where attendees may submit comments/questions for the authors. 
There will also be a live remote poster session component (see agenda for Thursday June 10, and make sure to select your time zone). Authors choose whether they will participate in the live component, and those who do will be given a Zoom room where interested attendees may join remotely to interact with the presenting author and discuss the work.
What happened to the in-person event planned for Portland?
Given the ongoing challenges associated with the COVID-19 pandemic, AACN leadership decided not to hold an in-person event as planned in Portland, OR in 2021. This was a difficult decision, but making it far in advance allows everyone to plan accordingly and still enjoy high-quality conference content from the safety of one's home or office.
What if I have a scheduling conflict during June 9-12, 2021?
The virtual format of the conference will allow you to access the handouts and pre-recorded portions of workshops before June. You may watch them on your own schedule. If you are unable to attend the live Q&A portions of the workshops, we will be recording them and making them available to everyone a few days later. All recordings will remain available to registered attendees for three months after the conference ends (i.e., September 12, 2021).
Can one get CEs by watching the recordings within the 3 months following the conference, or does one need to watch them live / in real time?
Yes, one may still earn all the CEs that the conference offers by viewing the material within the three months after the live Q&A sessions and completing a post-workshop evaluation form that includes a quiz based on its content. No additional CE will be awarded from attending the live Q&A session, though you are encouraged to do so.
Do I have to be board-certified or an AACN member to attend?
Not at all! AACN welcomes members and non-members to its conference every year. Current AACN active, senior, and student members, as well as non-certified affiliates, receive discounted rates on conference registration. You are welcome to join AACN as a student member or non-certified affiliate to enjoy the same savings!
In what time zone are the live Q&A sessions occurring?
The live Q&A sessions are listed by default in the Eastern Daylight Time Zone (UTC-4:00). However, please see the live Q&A agenda where there is an option to adjust the time zone to those used in North America. To join the live sessions, please adjust the listed time to your time zone. We have scheduled the sessions in late morning/early afternoon to accommodate our friends on the West Coast, Hawaii, and Alaska. We welcome international attendees as well! If the live Q&A times are not easily workable for you, please know that they will be recorded and available to you a few days later.
What is AACN's policy on sponsors?
AACN receives funds from various test companies and publishers to provide financial support for receptions during the conference; however, no financial support is provided for individual workshops that offer CE credit.
Click here to learn more about becoming a sponsor!